Email Encryption Demo
Take Control of Your Secure Email
Recipient Notification – Protected Trust lets the sender know when the protected message is received and opened.
Revoke and Message – Revoke an email message at any time before the sender opens it.
Message Expiration – Senders can specify a life span for the delivery and opening of a message reducing risks of data loss.
No Registration for Recipients – You can choose to require or not your recipients to register their account to be able to open messages.
Easy Access From All Your Devices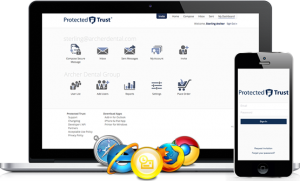 Web Portal – Access from any device, anywhere, any time using an Internet connection
Add-in for Microsoft Outlook 2010, 2013 and 2016 versions
Mobile App for iPhone and iPad – Fingerprint-secure access to your encrypted emails via our Touch ID-enabled Apps
 EHR and App-Integration – Send secure emails directly from your existing EHR, or any Windows application, by printing to our Virtual Printer Driver app or by sending through Microsoft Outlook
Easily Verify Every Recipient

User's credentials – After a simple one-time verification, our servers automatically grant that recipient access to future emails.
Phone verification – Avoid the hassle of registering recipients with a feature as familiar as one's cell phone.
Shared secret – Common phrase or number combinations established between the sender and recipient.

Click the play button to view the demo and if you want to make it full screen, click the icon in the bottom far right corner. It will be alot easier to see in full screen. Make sure to turn your speakers on as I am talking throughout it.